Upgrade Nutanix Acropolis Hypervisor aka AHV
Nutanix has its own hypervisor called Acropolis Hypervisor aka AHV. Nutanix Acropolis Hypervisor is highly customized, Linux based KVM, running on Linux CentOS 6.5. AHV is a integrated part of Nutanix Xtreme Compute platform – more about Nutanix XCP you read here – Nutanix XCP.
As every hypervisor, AHV needs to be updated or upgraded, from time to time. Upgrade process of Nutanix Acropolis Hypervisor is extremely simple and painless. Whole process is transparent for guest virtual machines (one of the many features of AHV is vMotion or LiveMigration – you name it). In upgrade process I will use well known (one of the best Nutanix Prism features) Nutanix OneClick Upgrade. Nutanix Oneclick upgrade supports upgrade for all three supported hypervisors,VMware ESXi, Microsoft Hyper-V and obliviously for Nutanix Operating System.
How to Upgrade Nutanix Acropolis Hypervisor.
Download AHV upgrade bits from Nutanix portal.
Log in to Nutanix Prism
From configuration menu (little gear icon) click on Update Software and choose hypervisor tab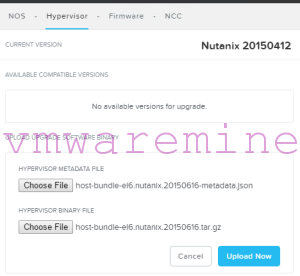 Upload bits to Prism
Once done click Upgrade button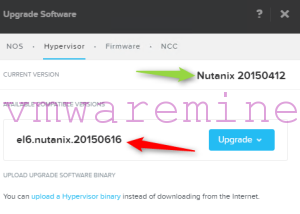 You can either watch progress on Prism or , if you have some time, play 2048 game 🙂
Upgrade process takes around 15 – 20 minutes per host. Upgrade time might be longer if you have big host and many VMs on it.

What is happening in background:
Upgrade process migrates all VMs out of host
Shut down CVM (Controller Virtual Machine)
Puts AHV host into maintenance mode
Install upgrade
Reboot host
Host upgrade verifies that the storage service come back up before moving to the next node.
That's it, job done 🙂