What is NutanixManagementShare
Nutanix in Acropolis version 5.0 introduced default container called – NutanixManagementShare. So, either you are migration from 4.X to %.X or staging up brand new Nutanix Acropolis cluster on version 5.0. NutanixManagementShare container will appear in Prism.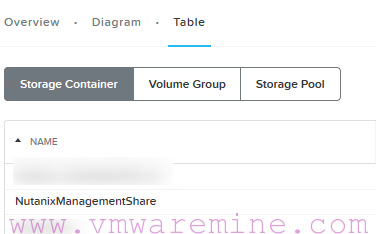 VMwaremine bloggers are asking me questions like:
Can I delete it?
What is this container for?
Why AFS upgrade failed?
The following AOS 5.0 Release Notes description answers the preceding questions.
AOS 5.0 creates a new storage container for Nutanix clusters for use with the Acropolis File Services (AFS)and Self-Service Portal (SSP) features. This storage container is used by AFS and SSP for file storage, feature upgrades, and other feature operations. To ensure proper operation of these features, do not delete this storage container. Nutanix also recommends that you do not delete this storage container even if you are not using these features.
Summarizing, if you do use or plan using Nutanix SSP or Nutanix AFS, do not delete it. In case you deleted it, simply create new container with the same name.
NOTE: if you see issues with AFS upgrade, open Nutanix support case.
1-Click functionality for AOS, Hypervisor and NCC are not affected. System continue to use local CVM storage to download bits prior upgrade.